Aerial Robotics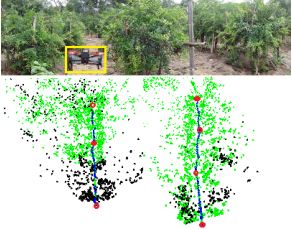 Plantation Monitoring and Yield Estimation using Autonomous Quadcopter
Recently, quadcopters with their advance sensors and imaging capabilities have become an imperative part of the precision agriculture. In this work, we have described a framework which performs plantation monitoring and yield estimation using the supervised learning approach, while autonomously navigating through an inter-row path of the plantation. The proposed navigation framework assists the quadcopter to follow a sequence of collision-free GPS way points and has been integrated with ROS (Robot Operating System). The trajectory planning and control module of the navigation framework employ convex programming techniques to generate minimum time trajectory between way-points and produces appropriate control inputs for the quadcopter. A new 'pomegranate dataset' comprising of plantation surveillance video and annotated frames capturing the varied stages of pomegranate growth along with the navigation framework are being delivered as a part of this work
Videos:
Related Publications: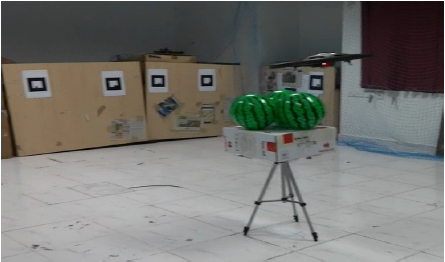 Fast planning for quadrocopter systems
Presented is a a non-linear time scaling based reformulation of time optimal planning along specified paths. The reformulation is motivated by mainly two reasons. Firstly, to have a computationally fast framework to enable replanning at any time on-line. Secondly to ensure high quality control approximation, we introduce piece-wise exponential approximation between grid points, as compared to existing notion of piece-wise constant approximation. Even with this complexity, the reformulated problem has a fairly simple optimization structure. Most of the constraints of the optimization are linear while the rest of them have primarily linear part accompanied with a concave non-linearity. The optimization problem is solved through sequential convex programming (SCP) approach where at each iteration a sparse quadratic programming problem is solved. The optimization converges within three to four iterations and takes around 15 milliseconds. A fast path planner is integrated with time optimal framework and implemented on a quadrotor. Computational efficiency is utilised by the quadrotor to generate trajectories on-line from any arbitrary state.
Videos:
Related Publications:
Autonomous Navigation of Generic Monocular Quadcopter in Natural Environment. Kumar Bipin, Vishakh Duggal and K. Madhava Krishna ICRA 2015
---