Mobile Robotics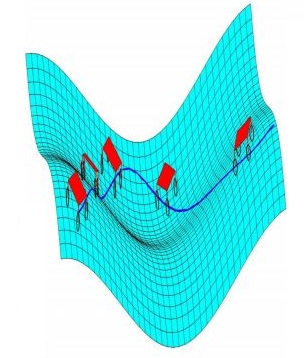 Planning non-holonomic stable trajectories on uneven terrain through non-linear time scaling
We present a framework for generating smooth and stable trajectories for wheeled mobile robots moving on uneven terrains. Instead of relying on static stability measures, the paper incorporates velocity and acceleration based constraints like no-slip and permanent wheel ground contact conditions in the planning framework. The paper solves this complicated problem in a computationally efficient manner with full 3D dynamics of the robot. The two major aspects of the proposed work are: Firstly, closed form functional relationships are derived which describes the 6 dof evolution of the robot's state on an arbitrary 2.5D uneven terrain. This enables us to have a fast evaluation of robot's dynamics along any candidate trajectory. Secondly, a novel concept of non-linear time scaling is introduced through which simple algebraic relations defining the bounds on velocities and accelerations are obtained. Moreover, non-linear time scaling also provides a new approach for manipulating velocities and accelerations along given geometric paths. It is thus exploited to obtain stable velocity and acceleration profiles.
Related Publications:
Planning non-holonomic stable trajectories on uneven terrain through non-linear time scaling Arun Kumar Singh, K. Madhava Krishna and Srikanth Saripalli. Autonomous Robots 2015
---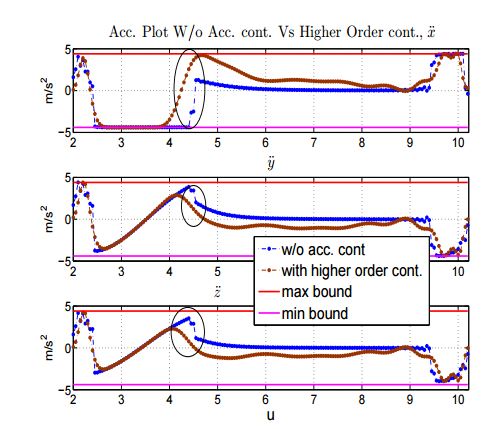 Planning under differential constraints
Computing time optimal motions along specified paths forms an integral part of the solution methodology for many motion planning problems. Conventionally, this optimal control problem is solved considering piece-wise constant parametrization for the control input which leads to convexity and sparsity in the optimization structure. However, it also results in discontinuous control trajectory which is difficult to track. Thus, in this paper we revisit this time optimal control problem with the primary motivation of ensuring a high degree of smoothness in the resulting motion profile. In particular, we solve it with continuity constraints in control and higher order motion derivatives like jerk, snap etc. It is clear that such constraints would necessitate the use of time varying control inputs over the commonly used piece-wise constant form. The primary contribution of the current work lies in the introduction of a C∞ class of time scaling functions represented as parametric exponentials. This in turn allows us to represent time varying control inputs as products of parametric exponential and a polynomial functions. We present the motivation behind adopting such representation of time scaling function over more common polynomial forms, both from mathematical as well as implementation standpoint. We also show that the proposed representation of time scaling function and control input leads to a very simple optimization structure where most of the constraints are linear. The non-linearity has a quasi-convex structure which can be reformulated into a simple difference of convex form. Thus, the resulting optimization can be efficiently solved through sequential convex programming where, at each iteration, the constraints in difference of convex form are further simplified to more conservative linear constraints.
Related Publications:
A Class of Non-Linear Time Scaling Functions For Smooth Time Optimal Control Along Specified Paths Arun Kumar Singh and K. Madhava Krishna IROS 2015
---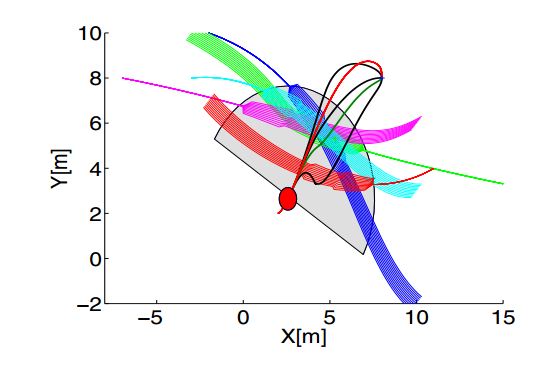 Collision Avoidance and Trajectory Optimization Approach in Dynamic Environments
This work proposes a trajectory optimization approach for navigating a non-holonomic wheeled mobile robot in dynamic environments. The dynamic obstacle's motion is not known and hence is represented by a band of predicted trajectories . The trajectory optimization can account for large number of predicted obstacle trajectories and seeks to avoid each predicted trajectory of every obstacle in the sensing range of the robot. The two primary contributions of the proposed trajectory optimization are (1): A computationally efficient method for computing the intersection space of collision avoidance constraints of large number of predicted obstacle trajectories. (2): A optimization framework to connect the current state to the solution space in time optimal fashion.
Related Publications:
Closed Form Characterization of Collision Free Velocities and Confidence Bounds for Non-holonomic robots in Uncertain Dynamic Environments Arun Kumar Singh, Bharath Gopalakrishnan and K. Madhava Krishna IROS 2015
---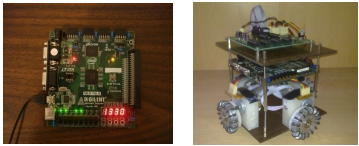 FPGA Based Collision Avoidance
This work presents a Field Programmable Gate Array (FPGA) based implementation of Acceleration Velocity Obstacle based Collision Avoidance for an omni-directional robot with acceleration constraint. Specifically a parallel architecture for collision avoidance is proposed that portrays the advantages of FPGA implementation over the sequential implementation for same processor or clock speed. FPGA based robotics is seen to gain popularity due to low cost, portability, seamless interface to hardware and most importantly due to inherent parallelism enshrined in various robotic algorithms. FPGA realization of the algorithm in a simulation test bed vindicates its efficacy and comparison with sequential implementation is also highlighted. The work proposes three different architectures for the implementation of the proposed algorithm viz. sequential architecture; a resource constrained pipelined architecture and a hybrid pipeline parallel architecture. The performances of those three architectures have been evaluated.
Videos:
Related Publications:
---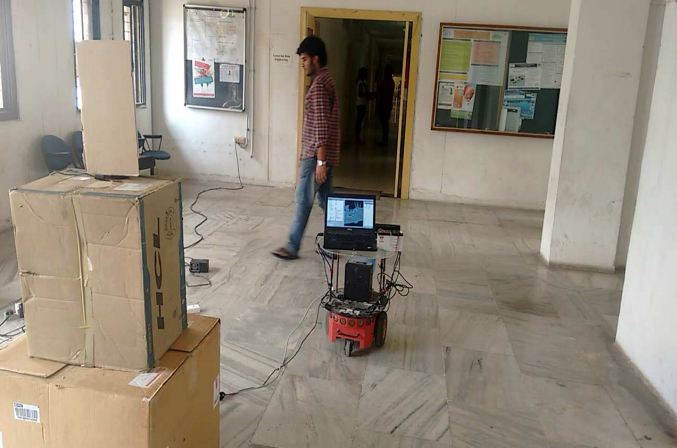 Mobile robot navigation amidst humans with intents and uncertainties
We propose a novel collision avoidance formulation in the intent space, suitable for navigation of non-holonomic robots in human centered environments. The intent space is characterized by various bands of trajectories wherein each band can be thought to be a representation of a possible human intended motion and the uncertainty associated with it. We ascribe probabilities to human intentions and characterize the uncertainty around it through Gaussian state transition and its concomitant Gaussian parametric distribution. Given an intent space we design avoidance maneuvers based on our recent works on time scaled collision cone concept which provides analytical characterization of collision free velocities in dynamic environments. In this paper, we present a probabilistic variant of the time scaled collision cone which allows us to relate space of collision free velocities to an associated confidence measure. We also develop an optimization framework which extract such specific solutions from the entire solution space that achieves an elegant balance between the objective of minimizing risk and ease of avoidance maneuver.
Related Publications:
---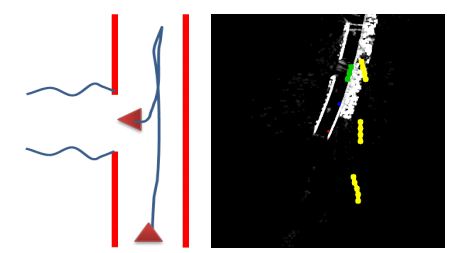 On Campus Autonomous Navigation
An integrated navigation system comprising of pose estimation with GPS, AHRS and odometry, perception with planar laser range finder and monocular camera capable of robust road and intersection detection was developed. The system could map a network of campus roads, identify intersections and perform collision avoidance.
Videos:
Related Publications:
---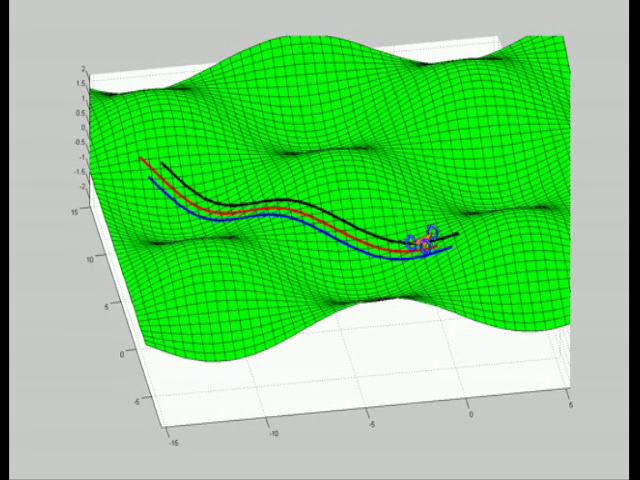 Quasi-Static Motion Planning on Uneven Terrain
In this work presented is a motion planning algorithm connecting a starting and ending goal positions of a wheeled mobile robot (WMR) with a passive variable camber on a fully 3D uneven terrain without slipping. The overall planning framework is along the lines of the RRT (Rapidly Exploring Random Tree). The curve connecting the adjacent nodes of the RRT is a quasi-static path which is generated using the forward motion problem based on the Peshkin's minimum energy principle which combines the force and kinematic relationships of the WMR into a nonlinear optimization problem. The output of this optimization routine is a set of ordinary differential equations (ODEs) representing the non-holonomic constraints and wheel ground contact conditions of the robot along with a set of differential algebraic equations (DAEs) representing the geometric/holonomic constraints of the robot. In general a complete simulation of a WMR on a fully 3D terrain has been a difficult problem to solve. Previous methods for continuous evolution of the WMR have only incorporated the wheel ground contact constraints within the DAE framework. This work goes beyond the previous methods by incorporating the quasi-static constraints within the DAE framework. This evolution is now extended to a motion planning algorithm which guarantees that the vehicle traverses along quasi-static stable paths.
Videos:
Related Publications:
Quasi-Static Simulation of a Wheeled Mobile Robot having a Passive Variable Camber Vijay Eathakota, G Aditya and K Madhava Krishna. IFTOMM World Congress 2011
---


SLAM in semi structured environments
Simultaneous Localization and Mapping (SLAM) is one of most important research topics in mobile robotics. Many of the landmark based SLAM algorithms fail to yield desired results in a cluttered and structureless environments when making use of a planar laser scan alone as the sensing mechanism. In this research we try to quantify the performance of such algorithms in these environments. We start with looking at what kind of landmarks become good measurement models. We have also implemented some of the common SLAM fameworks like EKF-SLAM and FastSLAM.
Related Publications:
---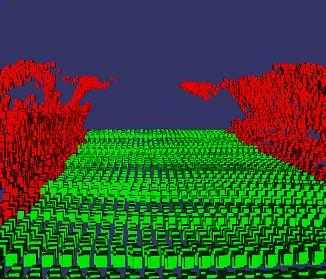 Outdoor Terrain Classification
Terrain classification is a crucial component of autonomous navigation outdoors and presents interesting challenges. The key challenge is to identify the traversibility of a terrain patch. Unlike in planar worlds where anything that the range scanner detects is considered to be an obstacle, in 3D terrains such easy classification is not possible as perceived obstacles are not necessarily at right angles to the currently traversed plane. A 3D point cloud is generated from the laser data and traversibility is analyzed by fitting planes in the 3D point cloud. This was done successfully with a single non-rotating laser mounted on a slow moving car.
Videos:
Related Publications:
---


FAST Localization
Global localization algorithms involve a search over all possible poses of the robot that can be typically over a large space in huge maps. Essentially it involves computing a posterior by seeing how probable are the obtained sensor readings at each of the discretized states in a map. Instead by reverse projecting the sensor readings from the obstacle boundaries onto the surroundings, a solution is obtained by searching over the space of obstacle boundaries than by a search in the discretized pose space. That this search over obstacle boundaries is considerably less if the ratio of free space to boundary space in a map is high is straightforward. This methodology helps in making global localization faster than many of the existing techniques like markov localization , correlation-based localization.
Videos:
Related Publications:
---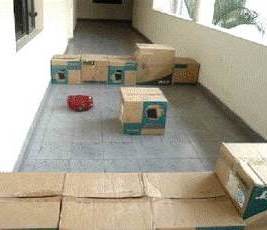 Integrated Mobile Robot Navigation System
Here we developed a methodology for integrating features within the occupancy grid (OG) framework. The OG maps provide a dense representation of the environment. In particular they give information for every range measurement projected onto a grid. However independence assumptions between cells during updates as well as not considering sonar models lead to inconsistent maps, which may also lead the robot to take some decisions which may be unsafe or which may introduce an unnecessary overhead of run-time collision avoidance behaviors. Feature based maps provide more consistent representation by implicitly considering correlation between cells. But they are sparse due to sparseness of features in a typical environment. This work provides a method for integrating feature based representations within the standard Bayesian framework of OG and provides a dense, more accurate and safe representation than standard OG methods.
Related Publications:
Feature Based Occupancy Grid Maps for Sonar Based Safe-Mapping Amit Kumar Pandey, K Madhava Krishna and Mainak Nath.IJCAI 2007
Link Graph and Feature Chain based Robust Online SLAM for Fully Autonomous Mobile Robot Navigation System using Sonar Sensors Amit Kumar Pandey and K Madhava Krishna.ICAR 2007
---