Robot Mechanism And Control


Multi-module Robot for Climbing Big Step-like Obstacles
A novel compliant robot is proposed for traversing on unstructured terrains. The robot has a set of modules where each module contains a trunk or link and an active wheel-pair, and it is connected to the adjacent module using a passive joint. This type of robots are inherently lightweight and provide high durability due to the absence of actuators at the link joints. However, they have limited climbing ability due to tendency of tipping over while climbing big obstacles. In order to overcome this disadvantage, the use of compliant joints is proposed in this work. Spring stiffness of each compliant joint is estimated by formulating an optimization problem using the static equilibrium equations of the robot. This is one of the key novelties of the proposed work. A design methodology is also proposed for developing an n-module compliant robot for climbing given height on a surface with prescribed coefficient of friction. The efficacy of the proposed formulation is illustrated for climbing big obstacles and traversing uneven terrains using simulation of 3- and 5-module robots. The robot is successfully able to climb maximum heights of 17 cm and 36 cm using 3 and 5 modules, respectively. Mechanical and electrical design of the robot is conceived, and a working prototype of the robot is developed. Simulation results are validated using the prototype.
Videos:
Related Publications:
An optimal wheel-torque control on a compliant modular robot for wheel-slip minimization Avinash Siravuru, Suril V Shah and K. Madhava Krishna Robotica 2015
Stair Climbing Using a Compliant Modular Robot Sri Harsha Turlapati, Mihir Shah, Phani Teja Singamaneni, Avinash Siravuru, Suril Vijaykumar Shah and K. Madhava Krishna IROS 2015
---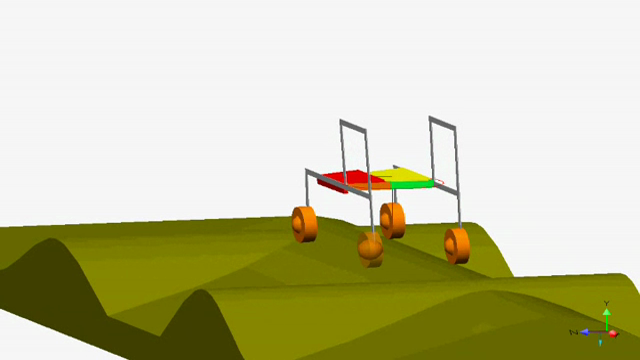 Passive And Active Suspension Based Climbing Mechanism
In this work a novel suspension mechanism for rough terrain mobility is proposed. The proposed mechanism is simpler than the existing suspension mechanism in the sense that the number of links and joints has been significantly reduced without compromising the climbing ability of the rover. We explore the use of compliant elements like springs for passively controlling the degree of freedom of the proposed mechanism and a framework for optimizing the spring parameters has been proposed. A performance evaluation of the proposed mechanism has been shown in terms of extensive simulations.
Videos:
Related Publications:
---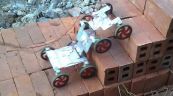 Force control of Hybrid wheeled legged vehicle
We aim to study the role of force control vis-a-vis other control methodologies such as posture for wheeled legged vehicles moving on uneven terrain with slopes and possibly stairs. Here we focus on the development of a control methodology for Hybrid Wheel Legged Vehicles (HWLV) to improve the mobility of the vehicle on a given surface. A control strategy including the control of the contact forces of the vehicle with the surface is proposed. As an outcome of the development, we also analyze the conditions which lead to a rigidly suspended vehicle being incapable of moving on a surface. This advocates the need for articulated suspension and the use of a force feedback control to generate required contact forces to traverse a given terrain.
Videos:
Related Publications:
---


Extension of RS Paths to a Robot with Front and Rear Wheel Steer
Reeds and Shepp (RS) in their seminal work showed how to construct optimal paths for a car-like robot or a robot respecting car like kinematics. In this research we present an algorithm for extending RS paths for a robot with both front and rear wheel steer. Such an extension of the configuration set would increase the size of the final configuration set achievable by a path that is optimal in free space.
Related Publications:
---